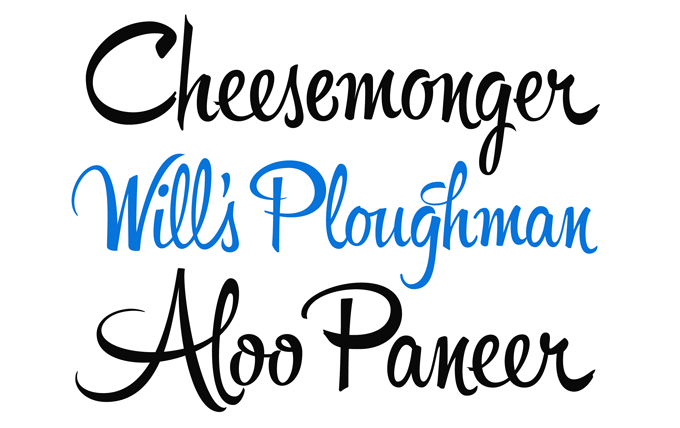 MyFonts.com just released their list of the most popular fonts of 2012, determined by average sales revenue. High on the list are round, Futura-esque san serifs that offer a variety of dramatic weights  like Nexa and Pluto. But the biggest showing comes from playful, calligraphic fonts like Hipster Script Pro (pictured), Corolyna Pro Black and Aire. When used well (read: with restraint), these decorative fonts add so much character to any design.
It is great to be reminded of what new fonts are coming out, and to sift through them intelligently, not blindly following trends but also recognizing why something is working well for so many people. I have a tendency to stick with some of my tried and true combinations, which allows me to spend more time fine-tuning designs than searching for the right fonts. However, I like to challenge myself to play with new fonts at least once a month. This keeps my mind fresh.
In print design, I've been using a lot of Helvetica Neue (always), Futura (classic) and the Archer/Gotham combination (on left, maybe a little 2008 but still fantastic). I've developed a love for web fonts like Gnuolane, Dancing Script and Raleway Thin. What were your favorite fonts of the year?